• dairy free • gluten free • low amine • moderate salicylates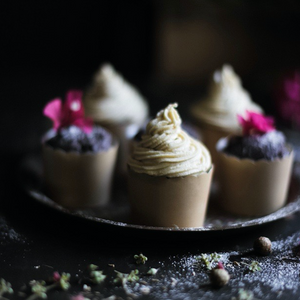 The recipe is dairy-free, wheat-free and can be made egg- and gluten-free if you modify the recipe (see the notes at the end of the recipe for the instructions). The recipe makes about 10 medium-sized muffins or 6 large, as shown in our photos. Tips I always add calcium powder (Skin Friend PM) when I bake anything sweet that might be acidic because calcium and magnesium are highly alkalising and create an acid-alkaline balanced recipe. It stops me from adversely reacting to the maple syrup (I don't react to rice malt syrup as it is an alkaline sweetener). The calcium and magnesium are also good...
---
• dairy free • gluten free • low amine • moderate salicylates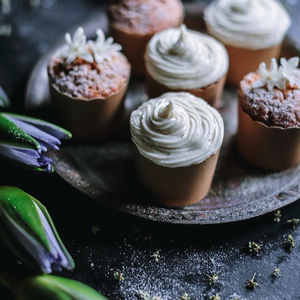 It's nearly Easter so I thought Carrot Cake would be a good recipe to revisit. I adapted this recipe from the carrot cake recipe from The Healthy Skin Diet, which I used to make all the time.  If you are following our books: This recipe is suitable for The Eczema Detox Program or The Eczema Diet, but not the FID Program (during weeks 1-4). You can access the Cashew Nut Frosting recipe here. To make this recipe gluten-free: use gluten free self raising flour instead of spelt... If using gluten-free self-raising flour, omit the baking powder from the recipe. To make an egg substitute: use...
---
• dairy free • moderate salicylates • vegan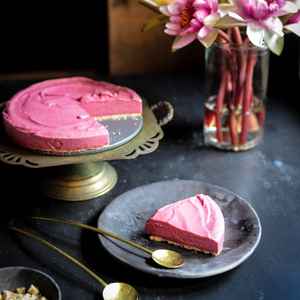 This delicious frozen dessert features skin-friendly ingredients from The Eczema Detox. You will need a non-stick cheesecake tin, preferably one with a removable base for easy removal of the frozen cheesecake when it's ready (see image, below for the cake tin we used). Our tin was 8 inches (20 cms) round.  Ingredients for the base 3/4 cup of raw cashews (not salted) 3/4 cup rolled oats (plain oatmeal) Pinch of quality sea salt 1 tablespoon tapioca flour (or spelt flour or rice flour) 2 scoops of calcium and magnesium powder (Skin Friend PM, optional) 1.5 tablespoons of real maple syrup 2 tablespoons of rice bran oil Ingredients for the filling 2 cups...
---
• dairy free • gluten free • low amine • moderate salicylates • vegan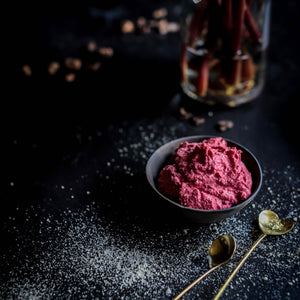 This delicious hummus recipe was adapted from The Eczema Detox. Try it with crackers and vegie sticks, use a dollop to flavour healthy salads or spread it onto sandwiches or toast for a protein-rich meal. Beetroots (also known as beets) are highly alkalizing so they add acid-alkaline balance to this dip recipe. Alkalizing foods can help to give a lovely, healthy glow to your skin.  Note beetroot contains moderate salicylates so if you are sensitive to salicylates, simply omit the beetroot for a healthy sesame-free hummus dip.  Serves 6; preparation time 10 minutes (if cooking the chickpeas there is additional soaking and cooking time)...
---
• dairy free • low amine • moderate salicylates • vegan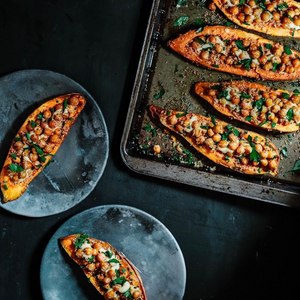 This tasty recipe is easy to make and packed with delicious skin-loving ingredients from The Eczema Diet and The Eczema Detox. However, you don't need to have eczema as anyone can enjoy them!  Benefits of sweet potato Sweet potatoes (also called kumara) are rich in vitamin C, B vitamins, manganese and beta-carotene which is an important antioxidant that can increase your skin's hydration and resilience against UV sun damage.  Benefits of chickpeas Chickpeas are packed with protein and provide a great source of insoluble fibre which helps to keep your gut healthy. Chickpeas are also a rich source of folate and minerals for...