• chemical sensitivity • dairy free • detox • eczema • Eczema detox • egg free • FID • healthy skin • healthy skin diet • low amine • low salicylate • low salicylate option • nutrition • oat flatbread recipe • oats • salicylate sensitivity • the eczema detox • the eczema diet • vegan • vegan option • vegan recipe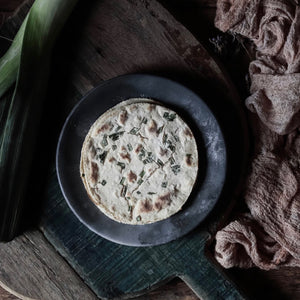 This is a recipe from 'The Healthy Skin Kitchen' book. This divine, healing flatbread was my saviour when I had severe food intolerances and eczema — it made meals delicious and a little fancy. You can't taste the leeks so it's a great way to get fussy family members enjoying this potent anti-inflammatory vegetable. They can also be used as soft tacos, pizza base or roti. If you don't have a rolling pin, use any cylinder in your kitchen such as a jar, water bottle or other container.  Ingredients 1⁄2 cup finely chopped leek (whitest part) 1 cup filtered or...
---
• best picnic food • dairy free • eczema • egg free • FID • gluten free • heal eczema • hummus • low amine • low salicylate • nutrition • recipe • salicylate sensitivity • the eczema diet • vegan
Chickpea crackers? Yes, please! Sometimes a celery stick just doesn't suffice for a crunchy snack on the Eczema Detox programs, so we have a solution... chickpea crackers.  These tasty crackers are the perfect snack option, and much more affordable than buying a box of gluten free crackers from the store. There's no fancy tricks to making these crackers, so you can whip them up regularly. They're ideal for a picnic, dinner party or as an on the go snack, to ensure you have your own eczema friendly food amongst itch promoting snacks. They can be paired perfectly with our sesame-free hummus...
---
• dairy free • egg free • gluten free • low amine • low salicylate • vegan
Christmas time is all about love, family, generosity, blasting Mariah Carey's carol All I want for Christmas, and my favourite part... FOOD! No matter what your religion or beliefs, the end-of-year holiday season is also about treating your taste buds to something extra special. This Gluten-Free Cookie recipe is perfect for all our eczema warriors or anyone looking for that Christmas treat, without causing an itch, as the recipe is low salicylate, dairy free, gluten free (etc) AND still delicious. This gluten-free cookie recipe calls for gluten-free oats or gluten free flour (to make it gluten free) but you can use...
---
• dairy free • egg free • low amine • low salicylate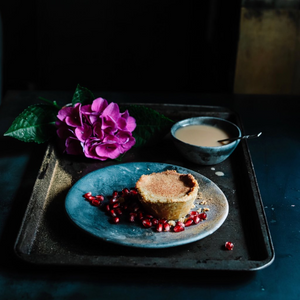 This recipe is a special treat for anyone who loves custard but can't stomach dairy or egg (as this recipe is free of both). Dairy and egg intolerances are both very common in people with eczema so this recipe was created to cater for people with skin disorders but of course anyone can try it. The recipe is also classed as low salicylate and low amine, so it's ideal for people with multiple chemical sensitivities, eczema, TSW, psoriasis and other types of skin inflammation that may require a low chemical (low salicylate) diet. When Katie (who works with me at...