• dairy free • detox • eczema • Eczema detox • eczema diet recipe • FID • gluten free • healthy skin • healthy skin diet • low amine • low salicylate • low salicylate option • moderate salicylates • nutrition • recipe • salicylate sensitivity • sensitive skin • the eczema detox • the eczema diet • vegan • vegan option • vegan recipe
This is a recipe from 'The Healthy Skin Kitchen' book. We are obsessed with these oil-free flatbread recipe — serve them alongside San Choy Bau, Lamb Skewers or Cashew Caesar Salad (recipes found in The Healthy Skin Kitchen book). You can use gluten-free plain/all-purpose flour if you can't eat oat flour (this recipe was tested with oat flour and Bob Mills Gluten-free Baking Flour). You will need a non- stick wok or large non-stick frying pan, rubber spatula, baking (parchment) paper and a rolling pin or long cylinder. You can use any type of cooked sweet potato including roasted, steamed...
---
• dairy free • eczema • gluten free • low amine • moderate salicylates • nutrition • paleo • the eczema diet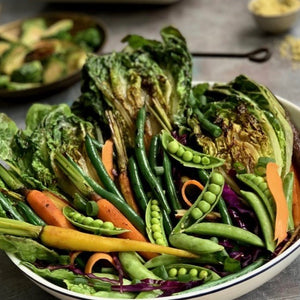 This tasty paleo-inspired fish dish includes a beautiful Autumn vegetable salad, paired with fresh white fish.  It's nearly Easter, and it's officially Autumn here in Australia, so we thought this colourful dish would be ideal for a special Good Friday meal (or anytime really). We have used ingredients that are featured in The Eczema Detox (check out the beautiful book here), plus sugar snap peas just because they look AMAZING in photos. Note sugar snap peas contain moderate salicylates so omit them if you are sensitive to this natural chemical. If you have read The Eczema Detox or The Eczema Diet by nutritionist Karen Fischer, you already know all about salicylates and how they...
---
• dairy free • gluten free • low amine • moderate salicylates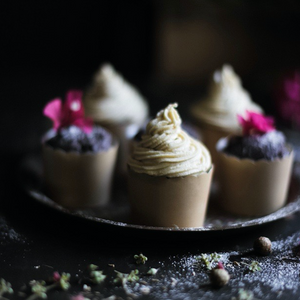 The recipe is dairy-free, wheat-free and can be made egg- and gluten-free if you modify the recipe (see the notes at the end of the recipe for the instructions). The recipe makes about 10 medium-sized muffins or 6 large, as shown in our photos. Tips I always add calcium powder (Skin Friend PM) when I bake anything sweet that might be acidic because calcium and magnesium are highly alkalising and create an acid-alkaline balanced recipe. It stops me from adversely reacting to the maple syrup (I don't react to rice malt syrup as it is an alkaline sweetener). The calcium and magnesium are also good...
---
• dairy free • gluten free • low amine • moderate salicylates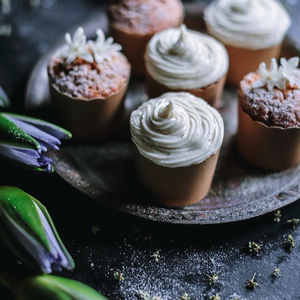 It's nearly Easter so I thought Carrot Cake would be a good recipe to revisit. I adapted this recipe from the carrot cake recipe from The Healthy Skin Diet, which I used to make all the time.  If you are following our books: This recipe is suitable for The Eczema Detox Program or The Eczema Diet, but not the FID Program (during weeks 1-4). You can access the Cashew Nut Frosting recipe here. To make this recipe gluten-free: use gluten free self raising flour instead of spelt... If using gluten-free self-raising flour, omit the baking powder from the recipe. To make an egg substitute: use...
---
• dairy free • moderate salicylates • vegan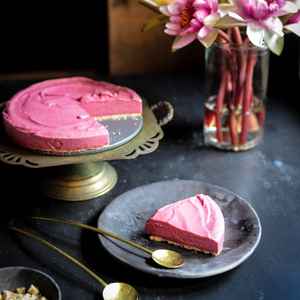 This delicious frozen dessert features skin-friendly ingredients from The Eczema Detox. You will need a non-stick cheesecake tin, preferably one with a removable base for easy removal of the frozen cheesecake when it's ready (see image, below for the cake tin we used). Our tin was 8 inches (20 cms) round.  Ingredients for the base 3/4 cup of raw cashews (not salted) 3/4 cup rolled oats (plain oatmeal) Pinch of quality sea salt 1 tablespoon tapioca flour (or spelt flour or rice flour) 2 scoops of calcium and magnesium powder (Skin Friend PM, optional) 1.5 tablespoons of real maple syrup 2 tablespoons of rice bran oil Ingredients for the filling 2 cups...