• dairy free • detox • eczema • Eczema detox • eczema diet recipe • FID • gluten free • healthy skin • healthy skin diet • low amine • low salicylate • low salicylate option • moderate salicylates • nutrition • recipe • salicylate sensitivity • sensitive skin • the eczema detox • the eczema diet • vegan • vegan option • vegan recipe
This is a recipe from 'The Healthy Skin Kitchen' book. We are obsessed with these oil-free flatbread recipe — serve them alongside San Choy Bau, Lamb Skewers or Cashew Caesar Salad (recipes found in The Healthy Skin Kitchen book). You can use gluten-free plain/all-purpose flour if you can't eat oat flour (this recipe was tested with oat flour and Bob Mills Gluten-free Baking Flour). You will need a non- stick wok or large non-stick frying pan, rubber spatula, baking (parchment) paper and a rolling pin or long cylinder. You can use any type of cooked sweet potato including roasted, steamed...
---
• best picnic food • dairy free • eczema • egg free • FID • gluten free • heal eczema • hummus • low amine • low salicylate • nutrition • recipe • salicylate sensitivity • the eczema diet • vegan
Chickpea crackers? Yes, please! Sometimes a celery stick just doesn't suffice for a crunchy snack on the Eczema Detox programs, so we have a solution... chickpea crackers.  These tasty crackers are the perfect snack option, and much more affordable than buying a box of gluten free crackers from the store. There's no fancy tricks to making these crackers, so you can whip them up regularly. They're ideal for a picnic, dinner party or as an on the go snack, to ensure you have your own eczema friendly food amongst itch promoting snacks. They can be paired perfectly with our sesame-free hummus...
---
• dairy free • egg free • gluten free • low amine • low salicylate • vegan
Christmas time is all about love, family, generosity, blasting Mariah Carey's carol All I want for Christmas, and my favourite part... FOOD! No matter what your religion or beliefs, the end-of-year holiday season is also about treating your taste buds to something extra special. This Gluten-Free Cookie recipe is perfect for all our eczema warriors or anyone looking for that Christmas treat, without causing an itch, as the recipe is low salicylate, dairy free, gluten free (etc) AND still delicious. This gluten-free cookie recipe calls for gluten-free oats or gluten free flour (to make it gluten free) but you can use...
---
• gluten free • low salicylate option • paleo • vegan option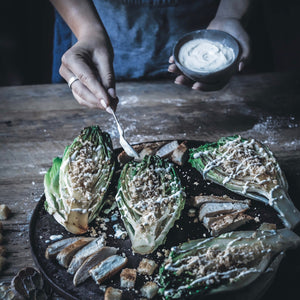 Traditional caesar salads are often smothered with a creamy and oily dressing but this one is made from eczema-friendly ingredients and proves that caesar salads can still be delicious, crunchy and tasty while being fresh and healthy as well. This salad makes for a lovely lunch or a light dinner and can be altered to be vegan or vegetarian, paleo or gluten-free. Omit the bread to make it Paleo. Swap the chicken for chickpeas to make it vegan. If you are sensitive to cashews or nuts omit the dressing. To make the recipe low in salicylates swap the cos lettuce for...
---
• gluten free • low salicylate • vegan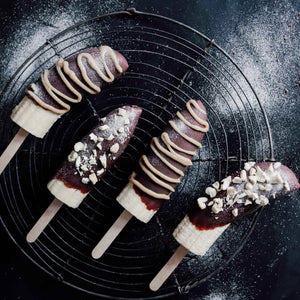 Here is a simple idea if you want to make a low salicylate dessert that's both healthy and delicious. My son loved these, and they did not last long during the school holidays.  You can usually buy craft sticks at an art shop or supplier, and some kitchen stores sell ice block sticks. You will need 3 bananas to make 6 popsicles. Pre-chill the whole bananas (skin on) in the refrigerator for at least an hour beforehand. Method: Make the Carob Mylk Chocolate recipe first (find recipe here). Put the melted chocolate into a narrow cup so it's easy to dip...