• gluten free • low salicylate option • paleo • vegan option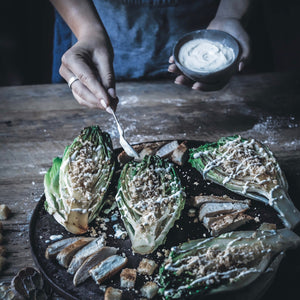 Traditional caesar salads are often smothered with a creamy and oily dressing but this one is made from eczema-friendly ingredients and proves that caesar salads can still be delicious, crunchy and tasty while being fresh and healthy as well. This salad makes for a lovely lunch or a light dinner and can be altered to be vegan or vegetarian, paleo or gluten-free. Omit the bread to make it Paleo. Swap the chicken for chickpeas to make it vegan. If you are sensitive to cashews or nuts omit the dressing. To make the recipe low in salicylates swap the cos lettuce for...
---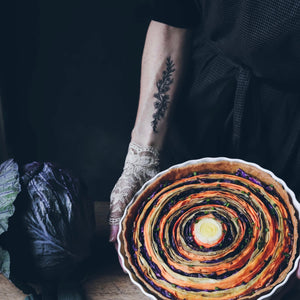 A beautiful tart to impress family or friends... Although it needs a little extra love and time for assembling, it is actually easy peasy to make and definitely a crowd pleaser as its both beautiful and delicious. You can choose from a variety of vegetables from the Eczema Detox such as potato, sweet potato, cabbage or carrot for this recipe. We tried a few variations (both tarts are pictured below), however our favourite is a combination of purple, white and orange sweet potato. This combination cooked really well and provided a lovely texture and taste. We also tried purple cabbage and carrot which looked...
---
• gluten free • low salicylate • vegan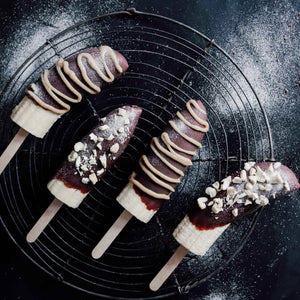 Here is a simple idea if you want to make a low salicylate dessert that's both healthy and delicious. My son loved these, and they did not last long during the school holidays.  You can usually buy craft sticks at an art shop or supplier, and some kitchen stores sell ice block sticks. You will need 3 bananas to make 6 popsicles. Pre-chill the whole bananas (skin on) in the refrigerator for at least an hour beforehand. Method: Make the Carob Mylk Chocolate recipe first (find recipe here). Put the melted chocolate into a narrow cup so it's easy to dip...
---
Who doesn't love dunking their bread into steaming hot soup or topping their toast with a tasty spread? If you are following the Eczema detox plan and also avoiding gluten, GF bread options can be a little limited as many supermarket loaves of bread can contain itch promoting ingredients.  Dairy, eggs and nuts are 3 of the most common allergy foods seen in eczema sufferers. Unfortunately, dairy and eggs are often found in store-bought, gluten-free bread. Yeast and yeast extracts are also a common ingredient as this helps the dough to rise. However yeast extracts contain high amounts of amines which...
---
• dairy free • eczema diet recipe • failsafe • gluten free • low amine • low salicylate • vegan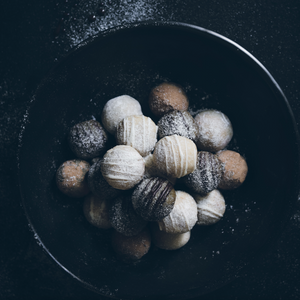 Carob Protein Balls make a delicious and healthy snack that can also satisfy your sweet tooth. These ones are made using eczema-friendly ingredients from Karen Fischer's Eczema Detox and Eczema Diet programs. THE HEALTH BENEFITS: Carob has been used for over 4,000 years for its various health properties. Carob is naturally caffeine free and supplies calcium, magnesium, vitamins B2 and B6 and dietary fibre. Carob is a great alternative to cocoa powder (also called cacao), which is rich in amines that can irritate some skin problems.  We use Rice malt syrup in this recipe as it is fructose-free, low in salicylates and is alkalising as opposed to refined...