• dairy free • detox • eczema • Eczema detox • eczema diet recipe • FID • gluten free • healthy skin • healthy skin diet • low amine • low salicylate • low salicylate option • moderate salicylates • nutrition • recipe • salicylate sensitivity • sensitive skin • the eczema detox • the eczema diet • vegan • vegan option • vegan recipe
This is a recipe from 'The Healthy Skin Kitchen' book. We are obsessed with these oil-free flatbread recipe — serve them alongside San Choy Bau, Lamb Skewers or Cashew Caesar Salad (recipes found in The Healthy Skin Kitchen book). You can use gluten-free plain/all-purpose flour if you can't eat oat flour (this recipe was tested with oat flour and Bob Mills Gluten-free Baking Flour). You will need a non- stick wok or large non-stick frying pan, rubber spatula, baking (parchment) paper and a rolling pin or long cylinder. You can use any type of cooked sweet potato including roasted, steamed...
---
• dairy free • eczema diet recipe • failsafe • gluten free • low amine • low salicylate • vegan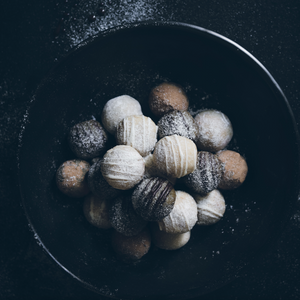 Carob Protein Balls make a delicious and healthy snack that can also satisfy your sweet tooth. These ones are made using eczema-friendly ingredients from Karen Fischer's Eczema Detox and Eczema Diet programs. THE HEALTH BENEFITS: Carob has been used for over 4,000 years for its various health properties. Carob is naturally caffeine free and supplies calcium, magnesium, vitamins B2 and B6 and dietary fibre. Carob is a great alternative to cocoa powder (also called cacao), which is rich in amines that can irritate some skin problems.  We use Rice malt syrup in this recipe as it is fructose-free, low in salicylates and is alkalising as opposed to refined...