• chemical sensitivity • dairy free • detox • eczema • Eczema detox • egg free • FID • healthy skin • healthy skin diet • low amine • low salicylate • low salicylate option • nutrition • oat flatbread recipe • oats • salicylate sensitivity • the eczema detox • the eczema diet • vegan • vegan option • vegan recipe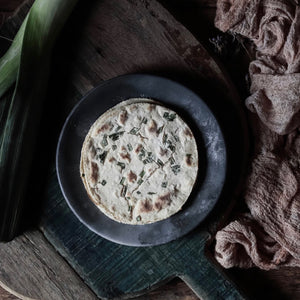 This is a recipe from 'The Healthy Skin Kitchen' book. This divine, healing flatbread was my saviour when I had severe food intolerances and eczema — it made meals delicious and a little fancy. You can't taste the leeks so it's a great way to get fussy family members enjoying this potent anti-inflammatory vegetable. They can also be used as soft tacos, pizza base or roti. If you don't have a rolling pin, use any cylinder in your kitchen such as a jar, water bottle or other container.  Ingredients 1⁄2 cup finely chopped leek (whitest part) 1 cup filtered or...
---
• dermatitis • eczema • healthy skin • oats • psoriasis • shea butter
  There is nothing I love more than reading a trashy mag (OMG are Brad and Jen getting back together?) while soaking in a hot bath with a fizzy bath bomb that makes my skin glow. I've had eczema before so I think it's important to use soothing ingredients that are eczema-friendly (and skin-friendly) in your bath. This bath bomb recipe was made using SKIN FRIEND Oat and Zinc Bath Powder, which is soothing for eczema, psoriasis, dermatitis and acne.  About the Bath Powder ingredients: Oat (avena sativa) powder contains cleansing saponions and beta-glucan, which forms protective barriers to soothe and hydrate...