• dairy free • gluten free • low amine • moderate salicylates • vegan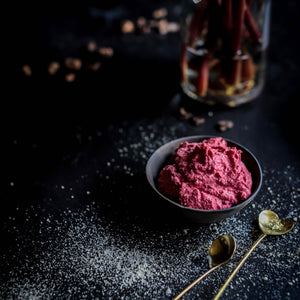 This delicious hummus recipe was adapted from The Eczema Detox. Try it with crackers and vegie sticks, use a dollop to flavour healthy salads or spread it onto sandwiches or toast for a protein-rich meal. Beetroots (also known as beets) are highly alkalizing so they add acid-alkaline balance to this dip recipe. Alkalizing foods can help to give a lovely, healthy glow to your skin.  Note beetroot contains moderate salicylates so if you are sensitive to salicylates, simply omit the beetroot for a healthy sesame-free hummus dip.  Serves 6; preparation time 10 minutes (if cooking the chickpeas there is additional soaking and cooking time)...
---
• dairy free • low amine • moderate salicylates • vegan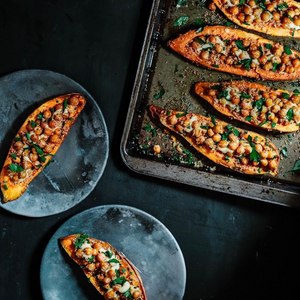 This tasty recipe is easy to make and packed with delicious skin-loving ingredients from The Eczema Diet and The Eczema Detox. However, you don't need to have eczema as anyone can enjoy them!  Benefits of sweet potato Sweet potatoes (also called kumara) are rich in vitamin C, B vitamins, manganese and beta-carotene which is an important antioxidant that can increase your skin's hydration and resilience against UV sun damage.  Benefits of chickpeas Chickpeas are packed with protein and provide a great source of insoluble fibre which helps to keep your gut healthy. Chickpeas are also a rich source of folate and minerals for...
---
• dairy free • gluten free • low amine • low salicylate • moderate salicylates • vegan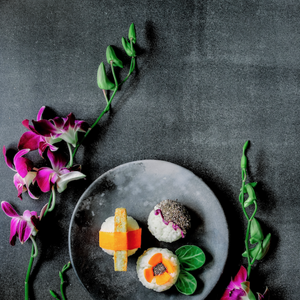 These tasty little rice balls are a great alternative for when you're feeling like sushi but need an easier, salicylate friendly version. Sushi balls are a great option for kids following the eczema diet (or the new Eczema Detox) as they can be a bit of fun. Kids can choose their own toppings, arrange them how they like on a plate and dunk them in our tasty sauce. For the rice, you will need... 2 cups sushi rice rice – this will make a lot of rice so halve the recipe if you want a smaller batch (note it must be sushi...
---
• dairy free • egg free • low amine • low salicylate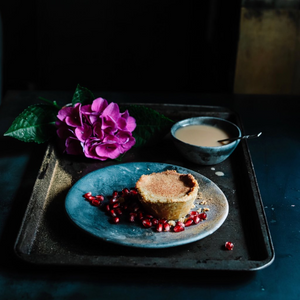 This recipe is a special treat for anyone who loves custard but can't stomach dairy or egg (as this recipe is free of both). Dairy and egg intolerances are both very common in people with eczema so this recipe was created to cater for people with skin disorders but of course anyone can try it. The recipe is also classed as low salicylate and low amine, so it's ideal for people with multiple chemical sensitivities, eczema, TSW, psoriasis and other types of skin inflammation that may require a low chemical (low salicylate) diet. When Katie (who works with me at...
---
• dairy free • low amine • low salicylate • vegan
This recipe is a delicious dairy-free version of an Australian classic, from The Eczema Diet book. The recipe is vegan-friendly and contains less sugar and more wholemeal goodness than the conventional recipe. I'm not a big consumer of sweet foods but I love having an Anzac Biscuit with a cup of carob tea. My mother makes these every time we visit her in Queensland. She is now 80 and she even uses spelt flour, which she keeps in the cupboard for when we visit.   The biscuits can be eaten at any time of the year, not just on Anzac day (on April...