• chemical sensitivity • eczema • healthy skin • healthy skin diet • low salicylate • psoriasis • sensitive skin • the eczema detox • the eczema diet • the healthy skin kitchen
If you have eczema, getting eczema advice from an expert can be a valuable way to help you on your road to recovery.   Over the years we have seen blogs and social media posts, where some of the ITCHY DOZEN WORST FOODS FOR ECZEMA have been recommended for eczema. It's no wonder people are confused about diet and eczema! Remember, just because you like and follow them, it does not make them an expert.  It's important to get your eczema info from a reliable source, which means not only someone who has successfully healed their own eczema (or a family members eczema), but also someone who has personally worked...
---
• chemical sensitivity • failsafe • low salicylate • salicylate sensitivity • the eczema detox • the eczema diet
Christmas is a time for celebration, and if you're like me and my family it involves eating a lot of food. However many typical Christmas dishes, such as ham, gravy and mum's amazing trifle dessert (sorry Mum), can trigger eczema flare-ups if you are susceptible to eczema. Luckily there are tasty eczema-friendly alternatives ... No matter what your religion or beliefs, here is an eczema-friendly festive menu plus one of my favourite dessert recipes, Baked Pear Crumble, which uses The Eczema Diet and Eczema Detox ingredients.  Eczema Diet foods for your Christmas table: Roast Chicken Refer to The Eczema Diet for the Roast Chicken recipe,...
---
• chemical sensitivity • eczema • supplements • the eczema diet • treatment
My eczema (when I had it) was on my face, especially around my eyes, and it was on a couple of fingers, and my recovery seemed to be pretty quick while on the Eczema Diet. The initial recovery was a 3-month period of following the diet religiously and taking the supplements, going through the detox process to get my skin clear. However, post my initial recovery I have since: travelled, had some set backs, seen some surprise flare ups, cheated, reintroduced foods and understood more about my patterns and triggers for eczema (post here). So I thought I'd tell you about my latest eczema...
---
• How I beat my eczema • the eczema diet
"Earlier this year, in my mid 30s, I developed pretty bad eczema and on my face of all places. It was in 3 patches - my forehead, the right side of my face and a large stain on my right cheek. Sometimes my eyes were included in the mix. I've never really been an eczema sufferer, but know there has been a history of it in my family.  I began to try everything from Aloe Vera gel, borage oil, creams, any thing and everything that seems to be a magical remedy to the condition. Nothing worked, the frustration made the...
---
• atopic dermatitis • eczema • The Eczema Diet • treatment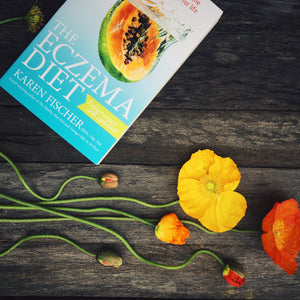 Reporter: Dr. Andrew Rochford According to 7 News, "Groundbreaking research has revealed that diet could hold the key to an eczema cure."  "An Australian nutritionist has made a major breakthrough by identifying specific foods that clear it up, allowing sufferers to avoid years of discomfort."  Prior to her treatment last year, 12-year-old eczema sufferer Georgie Broos was in agony with the cruel condition. "My eczema, it felt really bad, I couldn't do anything. I would scratch at night, I would cry, I couldn't go to sleep," Georgie told 7 News. Her arms and legs itching and covered with red eczema,...